Technology used: bubbling agitation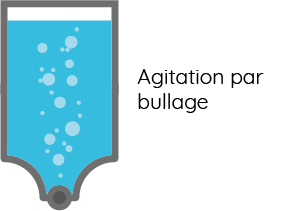 Agitation is simple and gentle, perfect for macroalgae, rotifers, and even microalgae. A nozzle located at the centre of the reactor at the lowest point allows air injection. It has no pump or screw propeller. In each piece of equipment with this technology, a non-return clapper secures the air injection and avoids any return of biomass to the air network. In addition, air can be enriched with CO2 to regulate the pH of the cultures. In conclusion, this agitation by air injection is economical.
The 30 L tank by Synoxis algae
This 30 L tank accompanies you in your R&D cultures with macroalgae strains or for the small production of microalgae and rotifers.
It is totally transparent and demountable. The design of a tank coupled to air injection ensures a maximal homogenisation of the culture. Its conical bottom and the purge valve, which are easily accessible, facilitate the emptying of the tank. Its hermetic lid preserves your algae from external contaminants in a sterile way. A base with adjustable feet allows for better stability. A graduation scale is present in the tank to indicate the water level.
The 30 L tank is a perfect tool for your bench work!
The 300 L tank, a must in the aquaculture industry
The 300 L tank is a very popular culture system in the aquaculture world. It is used to establish cultures with macroalgae and microalgae, whether in laboratories or algae production rooms.
Made in colourless PETG, this tank is totally transparent and compatible for food contact. Its design allows for a batch or semi-continuous culture. Its conical bottom and the purge valve simplify the emptying of the tank. A lid protects the culture.
The 300 L tank will satisfy you with its simplicity!
Bubbling agitation
Reduction of dead zones
Easy to clean
Capacity: 30 litres or 300 litres per growth chamber
Compatibility: sea water, fresh water, brackish water
Transparent design
Corrosion resistant
Compatibility with macroalgae, microalgae, and rotifers
Price upon demand
Download technical specifications
Discover our other lines. What do you want?